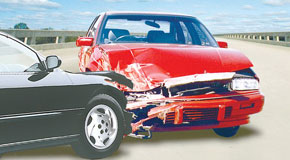 All drivers, even if they are cautious, are still vulnerable to the possibility of a car accident. That's why under Florida law, all drivers are required to have insurance coverage called personal injury protection (PIP) and property damage liability. But there's one caveat: the PIP only covers medical treatments within the first fourteen days and therefore, if a claim is filed thereafter, your attorney my have to file a lawsuit in order to obtain those medical damages from  the at fault party that would have been paid from PIP in order to cover your medical expenses.
If you need an attorney to manage your claim, contact one of our car accident attorneys at 305-631-1911(Miami) or 954-704-8123 (Broward). Having the help of an experienced car accident attorney in Miami and Fort Lauderdale may help you get the best settlement available.
Auto Accident Attorneys in Florida (Miami & Broward)
In just a few seconds, one wrong decision can permanently change one's life while operating a vehicle. A distracted driver, a drunk driver, a reckless driver, or a driver who disobeys Florida traffic laws can cause serious harm to others. Florida is a "no-fault" state which doesn't mean that the inquiry into who actually is responsible for the accident is abandoned. Actually, determining fault is really important in figuring out who is going to be responsible you're your injuries. After being treated for any injuries, it is essential to make sure you get advice from an experienced Florida auto accident attorney to ensure that you follow all of the necessary guidelines in submitting a car accident insurance claim. With the assistance of a prosperous auto accident law firm like Suarez & Montero, your odds of receiving the best possible settlement will increase because of our experience and dedication to our clients. Our Florida auto accident attorneys can file claims and fight for you against insurance companies.
Compensation After an Auto Accident in Florida
The basis for compensation after an auto accident varies on the facts and circumstances of your particular claim and accident. Our attorneys will do everything we can to investigate the accident and every party who is involved to ensure you that we obtain all information necessary to properly compensate you for your injuries. Below we provided a breakdown of some of the potential areas where we may obtain compensation for your injuries:
Your Auto Insurance Provider:
We can utilize any available Personal Injury Protection (PIP) coverage to pay for medical expenses and damage to property. If there is another driver involved in the car accident who does not have auto insurance coverage, there is the option to go after benefits under an uninsured/underinsured motorist (UIM) coverage if you opted to purchase the coverage at the inception of the auto policy period. Just to offer some clarification on PIP, this coverage is mandatory under Florida law and provides coverage for 80% of all reasonable, related and necessary medical expenses as well as 60% of lost wages stemming from an automobile accident occurring during the policy period. Household services are also generally covered at 100%. P.I.P. further provides a death benefit of $5,000 (which is now above and beyond the total available $10,000 medical and wage loss benefits). The policy is primary above other insurance and provides coverage to a limit of $10,000 ($15,000 in the event of a death claim). The idea behind PIP is that before filing suit against the party responsible for your injuries, you must first look to your own insurance company to pay for medical expenses as a result of the accident.
Other Party's Auto Insurance Provider: If your damages are higher than expected or exceed the PIP limits, our firm can file a claim for you with the other driver's auto insurance company to attempt to obtain additional benefits to compensate you for your injuries.
3rd Parties Responsible for the Accident: If an accident was partially caused by the negligence of a third party such as the government or a company, our firm can proceed against them as well to obtain additional benefits for your injuries.
Workers' compensation: If your auto accident happened while you were working, you can be compensated by your employer's workers' compensation insurance company.
Health Insurance Provider: Sometimes health insurers are liable for some of the medical expenses that pile up after sustaining an injury in a car accident. Our firm can reach out to your health insurance company and make sure that they contribute for their portion of your damages. Of course, this all depends on the facts and circumstances that apply to your particular case.
How to Determine Who is at Fault in a Car Accident in Florida?
Generally, damages in auto accident cases are determined by the degree of fault that is assigned to each party involved. As a victim in an auto accident case, you are to be compensated by your own auto insurance provider through PIP and then from the at fault party's insurance company.
I was Hurt in an Auto Accident, What Should I do?
There is no replacement for quality legal advice after being involved in a car accident. The car accident attorneys at Suarez and Montero would love to have an opportunity to explain the law in Florida to assist you in presenting a strong claim against the at fault party. Every firm is distinctive and auto accident victims have needs that are also distinct. needs are different. The Florida auto accident attorneys at Suarez & Montero encourage you to reach out so that we can explain more about the different ways that our law firm and attorneys can provide legal help and guidance after an auto accident. Make an appointment with us at one of our many locations. Remember, we work on a contingency basis so you will owe us nothing If we are unable to obtain successful results for your case.
The Law Offices of Suarez & Montero Car Accident Attorneys represents accident victims injured in various types of accidents including:
| | |
| --- | --- |
| Distracted Driving Accident Lawyers | Drunk Driving Accidents |
| Road Rage Car Accidents | Head-on Collisions |
| Rollover Accidents | Rear-end Car Accidents |
| Left Turn Accidents | T-Bone Car Accidents |
| Failure to Yield Car Accidents | Sideswipe Accidents |
| Merging Accidents | Lane Change Accidents |
| Construction Zone Car Accidents | Uber Accidents |
| Truck Accidents | Semi-Truck Accidents |
| Bicycle Accidents | Train Accidents |
| Pedestrian Accidents | Boating Accidents |
We serve clients throughout Florida including those in the following areas:
             Miami-Dade: Aventura, Coral Gables, Doral, Fontainebleau, Hialeah, Homestead, Kendall, Miami, Miami Beach, Miami Lakes, North Miami, Tamiami, and Westchester.
         Broward: Fort Lauderdale, Hallandale Beach, Hollywood, Pembroke Pines, and Weston; and Palm Beach County including Boca Raton, Lake Worth, and West Palm Beach.